ATX Design Studio
Architectural Lighting Design
Custom. Expert. Beautiful.
Check out our recent work or get in touch for a quick chat.
1
Who We Are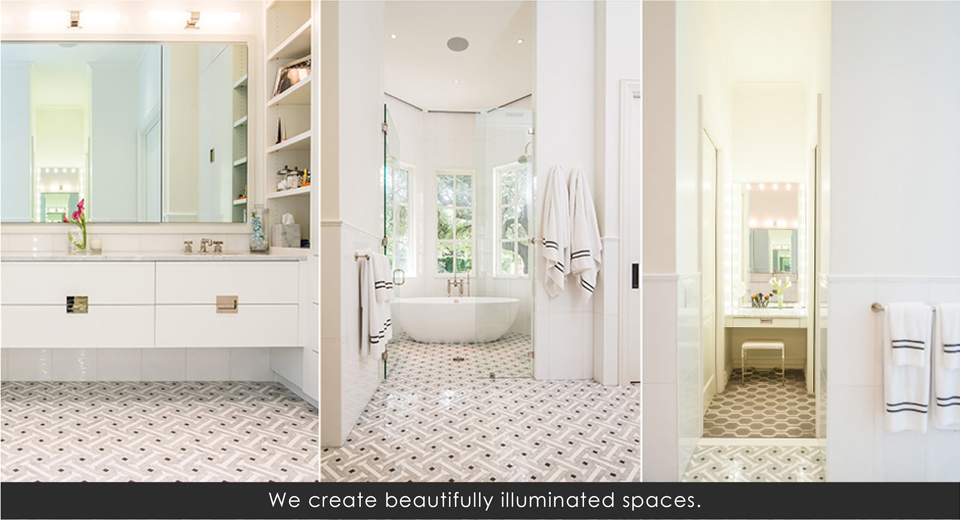 2
What We Do
3
Why Choose Us
4
Getting Started
Recent Work
Modern New Construction in Hyde Park

Eclectic New Construction in Tarrytown

Transitional Remodel in West Lake Hills
Testimonials
"Maria has a great grasp of both the technical and aesthetic sides of lighting design. She does a wonderful job of interpreting the often intangible design intent to produce solutions that work. She processes information quickly and is exacting in her attention to detail.

Maria is patient, straightforward, and fun to work with. She deals well with our client-driven changes and design refinements. She doesn't pull any punches and is always willing to share a laugh. I appreciate her manner and approach and look forward to working with her on another project."

"It was my pleasure to work on the COTA Formula 1 racetrack site with Maria Morrissey. Maria was a valued member of the lighting design team. She stays calm during the usual project disasters and was quite helpful in solving problems. Maria follows through to the end with tasks that are put in her court."

"Maria worked with the Circuit of the Americas as part of the lighting consultant team and was tasked with many changes to program along the way. She always jumped right in and helped deliver what was required in a timely, professional manner. She also was always willing to ask "What more can I do?"  As a personal aside, I also know how hard Maria is willing to work, as evidenced by her having gone back to school mid-career as a single mom to gain her architecture undergrad (with honors) and grad degrees. She brought this same work ethic to the project I worked with her on.

Maria from ATX Design Studio was amazing. She was very detail-oriented and saw the project thru from helping us select the fixtures to choosing the correct orientation to light our art work. This is our 2nd house that we built. Our first house had ordinary builder lighting and the difference between hiring a lighting designer or not is huge. It's a small cost to pay for a fabulous outcome. She took out all the guesswork on which products to choose from the overwhelming number of options and kept us within budget. We highly recommend ATX Design Studio.

Working with Maria was a dream. Her talent, professionalism and positive attitude were all enormously helpful to our project. Cannot recommend highly enough. Thanks so much, Maria!

Maria was great to work with. She suggested recessed art lighting that looks beautiful. She ordered it for me and got me wholesale pricing on it. She designed the lighting plans for the electricians and helped me find great electricians for the install. I couldn't be more pleased, and I highly recommend Maria – she knows her stuff!!

Maria brings a high level of passion and professionalism to ensuring that your home will be beautifully lit. She understands the architects and builders process and works well to ensure your vision is achieved.

Maria has been the most pleasant experience of my entire building project. She is talented, professional, extremely organized, detail oriented, and super passionate about lighting. It has been so refreshing to work with someone who loves what they do, works hard at it, and delivers high quality work. If we could all only be so fortunate to work with people like this in our lives. I couldn't recommend her highly enough!!

Definitely an A+ lighting design. Maria ensured the contractors delivered what she envisioned at no additional cost to the home owner. I am very satisfied at the design and enjoy daily the special touches she added to the features of the design. My home has an added edge of delightfulness because of her sensitivity to my needs in the kitchen, living and dining areas of my home. Would redo again, gave me confidence that it was the right investment to make in my redesign.

Working with Maria was a very pleasant experience. Her lighting schedule was thorough, easy to follow, and she responded quickly to any questions that arose throughout the project. I was impressed with her design before execution, and I was very pleased with the final result. Illuminating spaces by calculation is essential to elevating them from a simple room in a random house to something much greater. Maria's experience and knowledge of lighting control is fundamental to developing a space's character and one's place within it.

Maria brings a high level of expertise and professionalism to every project. Over the course of the last year, she has become an integral and value-additive part of the majority of our projects. She is organized, easy to work with and brings a level of competence, detail and an eye for successful lighting strategy that is superior.